Great Spa Experience and have been a local for 15 years
Juvenex has gone through several changes but the great service is always the same. I always visit wary morning when it is an all day spa for women, and I love it. It is one of my favorite places to visit after a long journey or a long plane ride. (review from tripadvisor.com)
This is my first review for Juvenex Spa, or getting a massage in general. I always thought that massages are for those with a weak spinal structure or older folks, tired of working through decades. Well, I was proven wrong. From the inside, the place is very nice and modern yet I felt like taking a journey, a journey to a mystical place to find my solitude (check pictures on Yelp to find out yourself). Due to my busy work schedule, I chose a quick "Express Massage". More of my way to get out or escape in case I don't like it haha. Now I would probably go with a full 60-minute session – I didn't want the experience to end. The technician (Hannah) had very strong yet gentle approach towards my back and I must say, that night I had the best sleep ever! I'll definitely return and treat myself again.  Thank you Hannah and rest of the team! (review from Yelp.com)
Romantic Couple Spa & Massage in New York – Experience the charm and beauty of New York's famous Korean Town from the premier New York spa services. The Juvenex Spa features recently redesigned spa room and provide a luxurious resort-style spa, massage, body scrub and a full-service spa.  The perfect location makes us an ideal choice for exploring New York City and nearby Empire state building and Korean town
Our Spa Services – Best Spa in New York – Private Couple Massage, Body Scrub
Our late night spa is opening 24hrs, we provide Romantic couples spa, getaway spa, facial massage, day spa, body scrub,  sun tanning, an entire floor rental for Spa party,  group party Spa, company party Spa. Juvenex Spa is the best spa in New York, near Midtown, Manhattan, Time Square, Washington square park, The High line, near Empire state building, Madison square park, New York Korean Town.
FEATURED
Basic Beautification Program
$145
---
Includes
Busy schedules can wreak havoc on the facial skin. Recharge with our thirty minute gentle pore cleansing, steam to lift impurities, and a specialized treatment mask. Relax as we massage the shoulders, arms & hands. Walk out with healthy, luminous skin.
Juvenex Sap & massage is open in New York City every day and night. Our spa is Open for Ladies and men.
Treatments are available 24/7 for both men and women
Spa Packages
Your journey to purification and rejuvenation

Get the Juvenex Jade Journey FREE for 1 hour with a purchase of 1 service of your choice over 1 hour. Get the Juvenex Jade Journey for $35 for 1 hour with a purchase of 1 service of your choice under 1 hour
We will recapture the youthful glow in your face by reducing the facial imperfections and fine lines. The beautification series is designed to bring you firmer, more beautiful skin without surgery or painful injections.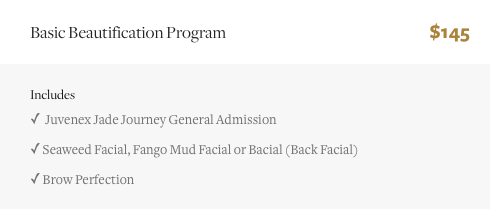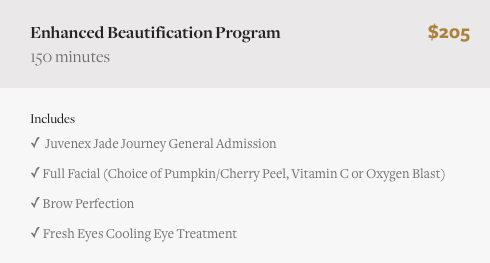 Juvenex Spa
25 West 32nd Street 5th Floor
New York, New York 10001
646-733-1330
pumpkin/cherry peel, vitamin C or oxygen blast, Brow Perfection, Fresh eyes cooling eye treatment, Full Facial in New York City NYC Manhattan. Massage & Spa -Seaweed facial Fango mud facial back facial, Full Facial in New York City | Half Day Spa & Full  Day  Spa NYC Manhattan.
Breacial Firming Breast Facial – uplifting breast facial in New York City NYC Manhattan European Thalasso Body-contouring treatment & Full Facial in New York City NYC Manhattan. Luxurious Luscious Lips Treatment, the Biracial Firming Breast Facial, Full Facial in New York City NYC Manhattan