Get the Juvenex Jade Journey FREE for 1 hour with a purchase of 1 service of your choice over 1 hour
Get the Juvenex Jade Journey for $35 for 1 hour with a purchase of 1 service of your choice under 1 hour
Beautification
We will recapture the youthful glow in your face by reducing the facial imperfections and fine lines. The beautification series is designed to bring you firmer, more beautiful skin without surgery or painful injections.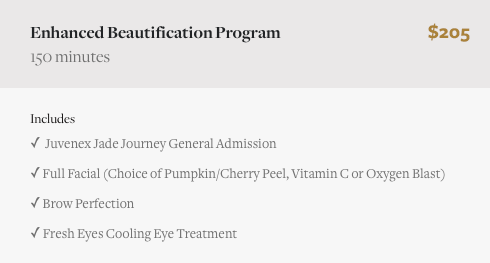 Release Relax Reconnect of your body
The environment is serene, the atmosphere is tranquil, our mission is to melt your stress and tension away.
Salt Glow Body Scrub in New York City NYC near Empire state building, Madison Square Park
Relax, Retreat, Rejuvenate with Juvenex Spa's Body Scrub
Juvenex Spa in New York
Address: 25 W 32nd St, New York, NY 10001
Hours: Open 24 hours
Phone: (646) 733-1330