Ford Ranger Head light replacement repair.
A week ago, my ford truck was hit by wild turkey, the turkey is now in heaven, but my left side of truck headlight was broken. I ordered the head light from ebay ( they are only selling a pair). it cost around $35 with free shipping. It was a good deal.
Wild turkey – photo from Wikipedia
Broken head light (Ford Ranger)
New head light part (L-side), it actually came with Left and Right side as pairs
but, I'm only replacing the Left one
First, you need to open the hood.
there are two metal latches, need to pull up and release the head light fixture.
Please remember the direction of the latches, you will need to put them back again after installing a new heard light.
Pull out the broken head light
then disconnect the 2 light cables
replace the directional bulb if the light bulb is damaged.
the head light bulb is actually comes with new head light, but the directional orange light bulb is not included in the kit.
connect the light cables
carefully insert the 3 poles of the head light fixture
close the 2 latches
now, check the head light focus, by sitting in front of car and see the light direction if it is aimed into the center.
this is the directional knob that you can move the head light Up and Down
Newly replaced head light, Just like new!
After adjusting the head light, it looks fine now. ( the whole replacement time took 20 minutes) not so bad. I'm Happy now!
Please be careful of the wild turkey, the turkey was pretend to stay off the road, but when i pass by him/her, it suddenly start to cross the road. and got hit!
when i come back from my church, I try to find him/her, but it's gone already, someone took it already for the dinner. Sorry I miss you.
Roasted Turkey: photo from Wikipedia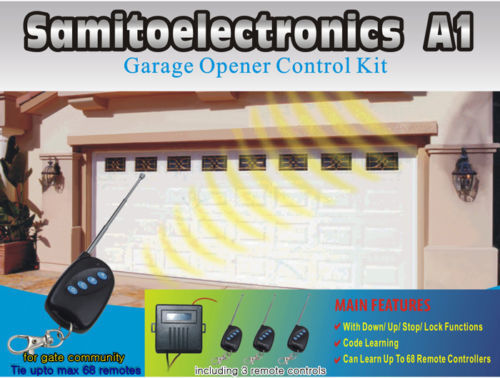 Garage door opener kit with 3 remotes: ONLY $36 in ebay